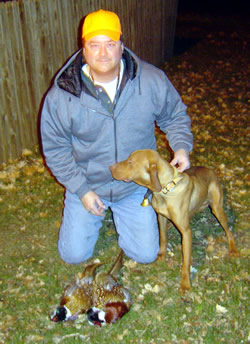 Lone Oak Vizslas
My name is Marc Williams.
I have raised, trained, and hunted with dogs for 30 years. I started out with Labrador Retrievers, which I really enjoyed, but I was always impressed with Vizslas.
I liked their

- size
- short coats
- easy maintenance
- eager to please personalities
- and happy dispositions
So 7 years ago, we moved to the country and added 3 Vizslas to our family. They are my loyal companions. Hunting with them is a joy. The Vizsla is truly the walking man's versatile bird dog.
Testimonials
This is Rick's wife Anne and I wanted to let you know the puppy we got from you is just a wonderful boy! He sits, is working on heeling, and stay. He loves just to sit and watch our goats and chickens in their pens. He's just so fun and very good. Thank you for selling him to us and not making us wait. I can tell by the comments on your web page that you have great dogs. If anyone asks where we got him we will sure send them to you. He is perfect and a joy!
~Anne Wing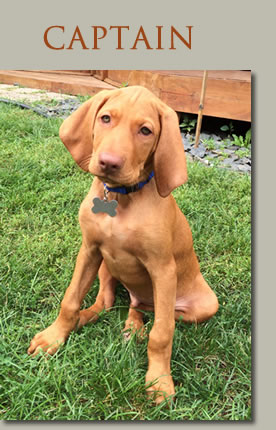 Hello Keri & Marc
Just an update on the last male I picked in August. His name is Captain and has exceeded all my expectations so far! He knows his basic commands. (I am working heel next). He also has not gone potty in the house for at least a week now:). Walking well on the leash too, a little timid at first but doing much better now. Loves his kennel and is sleeping all night!

Thank you!!!
~ Doug
---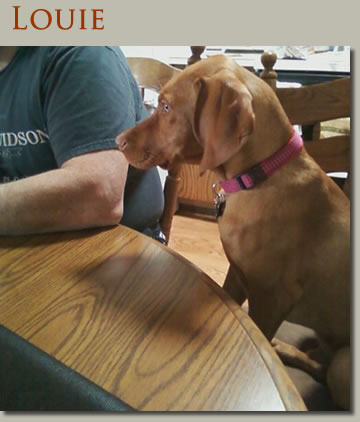 Good Morning Mark and Keri,
I thought you might like this picture of Louie, and give you an update on how he is doing. Louie is awsome, he truly believes he is a person as you can tell in this picture. He was watching Ronnie on the computer and when he does this he is very intense and serious. He is up to 28# and goes in tomorrow to be neutered and the vet tells us we need to keep him calm for a week, that's going to be fun. He finished his puppy training and got the AKC Star Award. Louie does something that makes us laugh many times throughout the day. He loves to sleep in bed under the covers by our feet however this morning I woke up and he was laying on his back, snout up in the air on my memory foam pillow. Is he spoiled oh yes he is, he gets lots of love and kisses everyday and he gives the same back to us. Louie is a wonderful pup and we love him to pieces. If it had not been for your testimonials on the internet we may not have ended up with Louie. Thank you for posting those testimonials. Thank you for the wonderful pup.
~ Darlene
---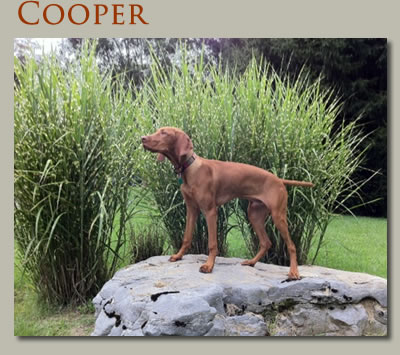 Hi Marc and Keri,
Attached is a photo of Cooper at 6 months. He is quite the handsome boy, and we love him dearly. He is still quite "spirited" and a bit of a handful, but he is getting better all the time, and such a love.
Ever grateful,
~Steve and Pam
---

Marc and Kerri,
We would like to thank you for the time and effort you two put into the care and breeding of your vizslas. Valentino is a very energetic and loveable part of our family. He loves the outdoors and is enjoying his first fall in Illinois. The leaves are his primary target when he goes outside not to mention every bird that he sees! Rebecca and I want to thank you from the bottom of our hearts for giving us the chance to purchase Valentino from you. He is an inspiration to us every day with the energy and companionship that he shows. Every day is another adventure for him as well as us. He is our little "angel"! And he is not very spoiled at all! Again thank you and we will be in contact with you for a playmate for Valentino in the near future.

~ Josh and Rebecca
---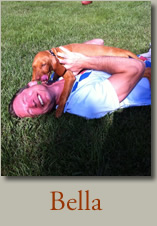 Marc and Keri
We just wanted to thank you for giving us the best puppy of the litter! We got the black collar female and named her Bella.

She is just the sweetest, most well-behaved little puppy we could have ever imagined. She's been terrific with people and little kids and other dogs. Most especially, she has been great with us. We are so happy and can't wait to continue to watch her grow and learn.

~Brian and Heidi
---
Sorry it's been a while since we last updated you on our four legged children, but Chloe and Smith have been very, very busy. They finally got their own kid and they just can't get enough of their sister McKenna! In the pic she is 4 months old (she has just recently turned 5 months). They love giving her little kisses, going on walks with her and just being any where she is (they are awesome with babies so gentle and protective of her). Thanks again for doing what you do, with out you we wouldn't have our beautiful and smart Chloe and our handsome and sweet Smith!

~Brandy and TJ (Faribault, MN)
Chloe's Puppy Pictures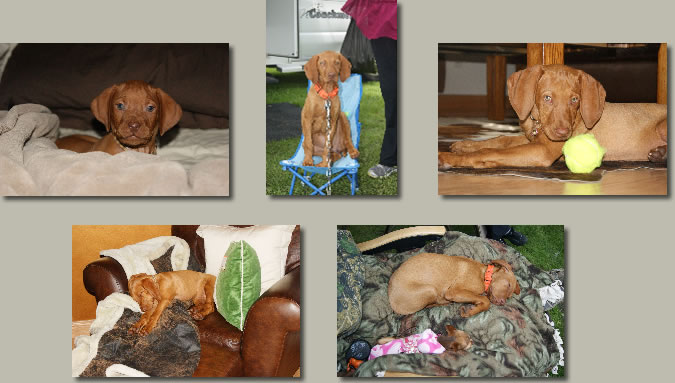 ---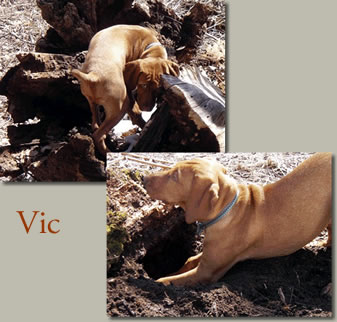 Vic is doing very well. He is one the easiest dogs to train I have ever had. At least until I wrote that. ;-D

I was tying to explain to him that there were no turkeys where he was looking in the attached pics. He has flushed a couple flocks of turkeys, and is showing great promise as a turkey dog. I am very happy with my new buddy.
~Tim
---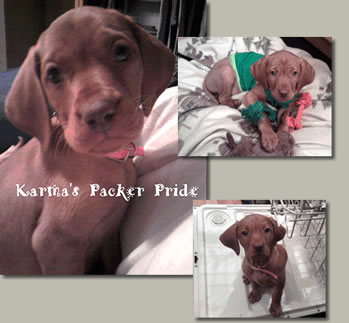 Marc & Keri,
I just wanted to send you an update on how Karma is doing. I attached some pictures as well. She is a little over 3 months now and let me tell you I couldn't have asked for a better dog! She is so cute and very smart!

After just a few weeks of having her she learned to sit, stay, lay down, and high five. Now her favorite trick is to roll over and speak, and starting today she is having fun learning to look for deer sheds. She has a very long attention span when it comes to finding the shed, she doesn't give up until she brings it to me for a treat. I was surprised at how fast this dog can learn! She is a very loyal companion and doesn't need a leash to stay by my side, but in public she is very well trained and can walk at my pace loosely on the leash. She is friendly with other dogs/animals and humans. My friends and family can't get over how adorable she is. I also think she is going to be a lap dog lol, she has to be in your lap when shes playing with her toys or wants to take a nap. The only thing she is still working on is potty training. She knows to go to the door most of the time, but during play and training sometimes its a little overwhelming and she can't make it to the door. It shouldn't be too much longer until she gets it down, and I know she can't hold it very long yet and that's not her fault. All in all she has been a very healthy and very spoiled puppy. Thanks again for the great dog!
~Sincerely, Sacia
---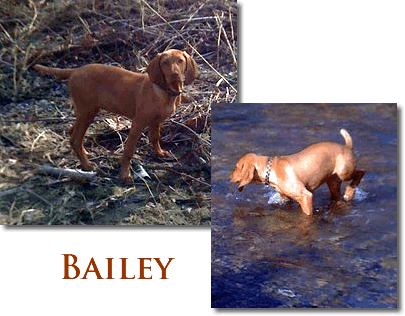 Hi Marc and Keri,
We purchased a vizsla from you a couple of months ago and just wanted to update you on how she's doing. We named our little girl Bailey. She's now 4 months old & is very, very spolied :) She goes EVERY where with us, including sleeping in our bed. We're always taking her on long walks up the mountain by our house, and she loves swimming. We have to keep telling her its still a little cold out yet, but she dont listen :) She loves baths :) When ever she goes into the bathroom she barks and barks at the bathtub. We will definitely keep you in mind when we decide to get another pup. She is definitely the best dog we could ever have gotten :) Here are some pictures of our little girl
~Dean and Marcie
---
Hey
Its the lightner's and our vizsla howie is doing great! He is house broke for the most part and my wife has introduced him into the nursing home she works at and howie is currently in training as a therapy dog. Our other two dogs have accepted him into the family and my 3yr old son loves him more than u can imagine. All is well and we really appreciate the opportunity to own one of your vizsla's.
Thanks again
~Lightner's
---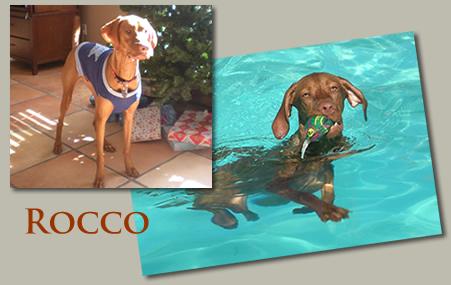 I bought a male Vizsla puppy from you just over 2 years ago in Phoenix. I met you in a Lowes parking lot and just wanted to say that I am sorry for not sending you an update on how he is doing. I bought a house a little over a year ago...and have been spending most of my time fixing it up.
I will say...the Vizsla you sold me is the best dog I have had. I get complements on him constantly and my mother, who is not much of a pet person, just loves him. He is wonderful with my nieces. One weekend, we set-up an entire room with blanket tents for them and Rocco (the Vizsla puppy) played with them in that room all day long....he wouldn't leave their side!
He is very healthy and gets he regular check ups; however, I have been having a small issue of putting weight on him...but we are working on that. He also loves to swim, as long as the water is warm enough for him (he is a huge baby with cold weather!) If i am on a raft in the pool....he has to lay with me on the raft!
I attached a couple pictures of Rocco over the past 2 years...and if you breed anymore Vizslas....I would be interested in a female.
Again...thank you so much for Rocco...he is amazing!
~ Kim N.
---
Hi Marc and Keri.
I bought a pup (Judy) from you in August of last year. I had come down from Winnipeg on very short notice.
I thought I would give you an update as to how she is doing. Zime (pronounced Zeema) is doing well. She is just over 10 months now and is 37 pounds. We are looking forward to taking her to the cottage this year as she really enjoyed it the few times she was there last fall.
I have trained with her and she has responded very well. I am not using her for hunting but in terms of her household commands she is doing very well. She has a lot of energy and I take her for runs and/or to the leashless park 4 to five times per week. During my runs I have her off lease and she heals the entire time. During the Winter we bought her a light coat for our walk and runs. We have a lot of deer around our yard and she just stands and looks over the fence at them all the time.
She has worked out very well for us. She is very friendly and had a natural smile when you pet her belly. Although not large we are fine with that.
Thanks again.
~Sean
---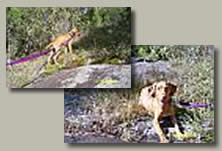 These are some pictures taken a few weeks ago in Illinois. We went to Shawnee National Forest. This was Bella's 4th camping trip. She is doing great. Loves chasing the cats, one in particular who does not back down from her but instead chases Bella around. Bella and Bubba are very jealous, they act like two toddlers. She is growing very fast and weighs in as of today at 31 pounds. Sorry it took so long to get back to you with some updates and pictures.
~ Sharon